WALKTALL MINIATURE HORSE COLT'S FOR SALE
ALL COLTS ARE AVAILABLE AT PET//COMPANION ANIMAL PRICES, RANGING FROM $750 UP TO $1,000 ... THERE'S NO BETTER VALUE!!
NEW IN 2021 WalkTall ? ? ? ... Yet to be named.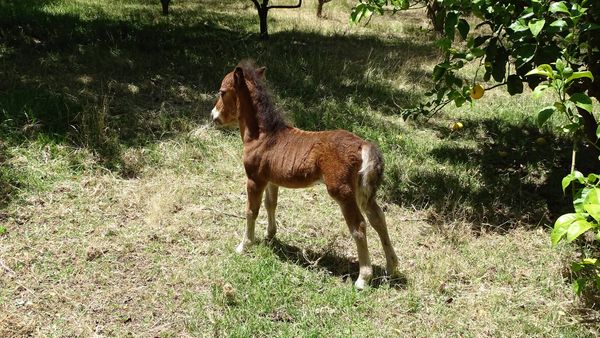 CURRENTLY FOR SALE
This Next colt speaks for himself. He's a full-brother to the tiniest Miniature Horse we have ever bred and "dynamic" in every way. Black & White Palouse with 4 White hooves, a Large Star & Snip and 2 gorgeous Baby-Blue-eyes. Very Pretty & correct. This is another true Miniature Horse of quality. Perfect for breeding lots & lots of colour and more importantly, adding refinement to coarser mares. - $1,100 GST inc.
Sooty-Pangare-Buckskin with 2 White Coronets, a Large Star & Snip, 1 Blue eye and 1 beautiful 50:50 Blue & Brown eye; Plus strong Splash-White genetics. This is a true "Miniature Thoroughbred" in type. Unfortunately he exceeds 34 inches and is classed as a Small Horse. He is extremely refined, elegant and athletic, with Superb Paces. Ideal for showjumping in-hand or Harness. A nice little horse with Exceptionally Good Manners. - $990 GST inc.
SOLD ~ CONGRATULATIONS TO THE NEW OWNERS OF THESE HORSES