Outstanding Performance Prospect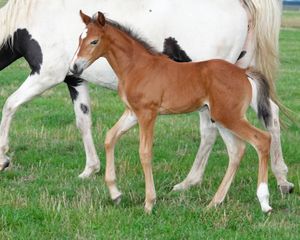 F2 Andalusian Colt 
Percentage:- 50% Andalusian
Cross:- Best described as Fusion ... 
The non-Andalusian percentage is a combination of working Paint Horse (25%), QH (12.5%) & Arab (12.5%).
Sire:- Cortés (aka Tez)
Dam:- MFI Spellbound (aka Sally)
DOB:- 5th of March 2022
Height Potential:- 16.1h.h. minimum; I think he'll make 16.2+h.h. But I'd prefer to remain conservative about young horse heights; Particularly 'til you get a good idea of their growth pattern. Mostly because too many Andalusian breeders over-quote their young horses' height potential. 
In this case Shane has a Pure Spanish family where stallions stand in the 17-17.2h.h. height bracket and Pure Spanish mares generally range from 16.1 to 16.3h.h.
Colour:- Currently displaying Primitive Bay colouring; But has unusual Red eyelashes and a reddish tinge to his mane & tail hair.
Markings:- Pangaré; 
White:- Star, Stripe & Snip + Near-hind Sock.  

Availability:- Now On Offer.
Current Price:- $6,000 ONO until the end of the Easter Holiday long weekend.  After Easter his price will increase to reflect what he has grown into, in his 1st year.
I am so smitten by this colt's early athletic prowess. He is so powerful and well balanced. I think he'll be a star, if we can catch the eye of a skilled rider.
You certainly don't see Andalusians with the muscling he displays; Or at least I never have, in over 40 years of owning and breeding Spanish Horses.
I am 'really proud' of this boy. If you have questions, please PM; But "Only" if you are genuinely looking to buy a young horse with top-notch potential.
Slideshow of Shane - From Day 1 to the end of Year 1.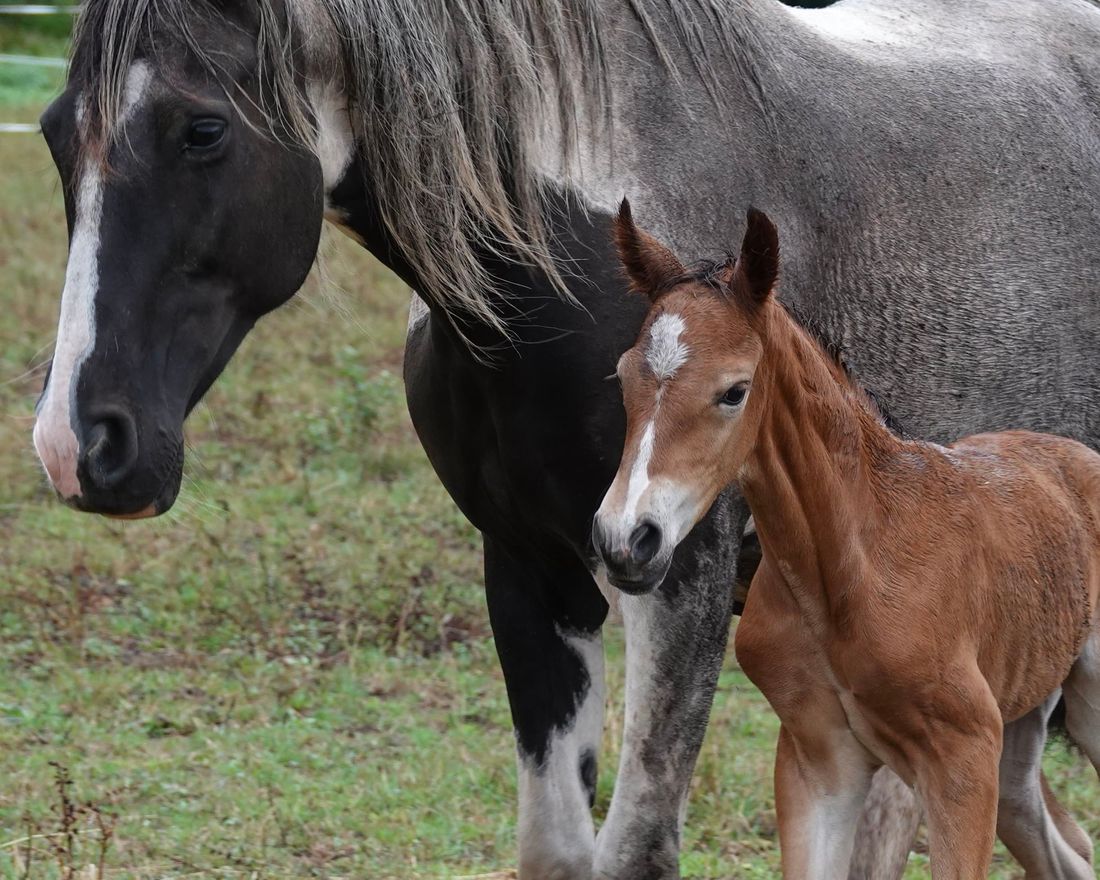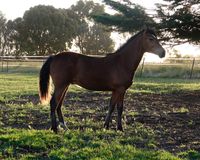 Rare Gold Champagne with dark mane & tail resembling his sire in base colour. Also carrying Agouti from his dam.

Will not be placed under saddle, due to the remaining affects of a severe illness which was contracted during the Whooping Cough epidemic, in the winter of 2010.

17.2h.h. Non-fading Black with a magnificent temperament. Exported.

Champagne mare bought from saleyards as a yearling. Now an elegant galloway with the loveliest of temperaments.

Probably sired by a Champagne coloured QH, imported from the USA. It is thought that "3 Bars Cajun Doc" is the most likely her sire; But she could also be by Pepe Buck or there's a remote possibility she has an Appaloosa heritage.

Black Tobiano Full brother to SOULUTION (1997 World Champion) & AIN'TCHAMAMAIMPREST - mare (200 Halter Points)

Sorrel Overo (World Champion Aged Stallion & 3-time Reserve World Champion - 758 points) Sire of 20 World & Reserve World Champions. Half-brother to CONSPIRACY (World Champion Open & Amateur Yearling Gelding).

16.2h.h. Started a Dynasty of Black horses over 16.2h.h. through Assassin & his sister Sabrina

16.1h.h. Tap-root mare for horses' of size & carriers of the Red Factor - Chestnut, now accepted by Spain.