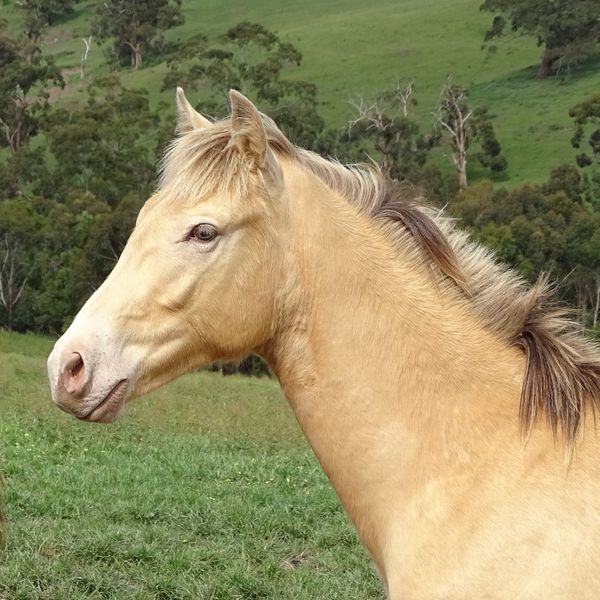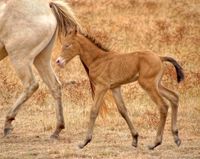 2018/1/12
Our 1st Pearl Champagne ... I believe he is "The First" Iberian Horse of this colour; "And" the 1st Double-Dilute of this combination for Australia.
2001/5/30

A Genetic Treasure-Chest. Carries Black, Red, Cream & Pearl genes; And throws Dun characteristics to most of his foals. Probably inherited his Pearl gene from one of the renown Veiga Family's great Bullfighting stallions "Guizo". Who in turn has a pedigree of great Working horses tracing back to "Agareno" who is quoted ago be one of the Chief's of the Lusitano Breed.

Liver Chestnut ... So both her Black PRE parents must have been Red Carriers ♥️

by Lenguaje (Agente X Feria) ... Military School of Jerez Out of Nicea (Orador VI X Veneciame) ... Benitez and Domecq

A Lovera bred Stallion by Jardinero V (Nevado III X Jardinera VIII) ... from a long line of Isabel Merella Terry horses. Out of Junquita (Brincador II X Danzarina II) ... this dam line is that of the highest rated 5 STAR Laureate in the Spanish Book of Merits.

Champagne mare bought from saleyards as a yearling. Now an elegant galloway with the loveliest of temperaments.

Probably sired by a Champagne coloured QH, imported from the USA. It is thought that "3 Bars Cajun Doc" is the most likely her sire; But she could also be by Pepe Buck or there's a remote possibility she has an Appaloosa heritage.
Please visit Cid's Page for more information. At this stage he will not stand at stud to outside mares until the Colac to Birregurra Barwon Water Pipeline has finished construction along our farm's boundary. This is due to the fact we respect & value our clients far more than Barwon Water and it's Contractors have shown they respect & value the residents, their pipeline infringes upon. We learn very early on that Barwon Water's Project Manager is MIA for the most part; And the different phases of the build are overseen by Contractors with Little to No Integrity. The only thing any of them are interested in is "their income" and to hell with the residents that are affected by it. 

So far we have been told they would need to use drones for surveying. Did we get any notification on the day they decided to fly these drones over "our" privately owned paddocks? NO … Strike "1"

After that we were contacted and told they needed to take soil core samples from inside our paddock, rather than along the unmade road where everyone has been told the pipeline will run. Due to my concerns about the break-a-leg hole/s that would be left behind, we requested a site meeting and granted them access through a locked road gate. At the end of that meeting The Contractors wanted to measure & mark where the holes would be drilled. Because we were not planning to spend hours standing around Garry told the 3 grown men to shut the gate & latch it as they left. To which they responded in the afirmative; So all had heard the request and acknowledged it. The next morning at the end of feed up Garry wen to check the boundary as is usual and found that Barwon Water's Contractors had no only failed to lock the gate; They'd also failed to latch it … And close it! In trusting them to their word, we could have lost 24 heifers and 9 dry mares … Strike "2"

Now we know Barwon Water doesn't care for the lives it is affecting, as I have explained on multiple occasions that our property is long and thin so we cannot move all our young horses away from the earthworks that are to come. Of course the woman in the PR Office assures me there will take due care. So you can imagine the anger and gut-wrenching anguish when I come home from a Doctor's Appointment (which Barwon Water Contractors made me late attending because they block our road to unload trucks and force the residents to sit in place until they finish) on the 26th of May 2023 to find a 3yo TB filly with her skull smashed-in "right beside" the area where Barwon Water's Contractor chose to stop me on the way out! Coincidence? … I don't think so. Compensation? … None! … Strike "3"

And now the gloves are off. For 3½ weeks The Contractor left us and our next-door-neighbour with an impassible road. I don't mean damaged I mean impassible for 2WD cars, livestock transports & towing vehicles; Pretty much our life blood … And when the rains came again and it seemed we would not get an Emergency Vehicle in, if needed, I decided it was time to take photos. My neighbour had already phoned the Council day after day and had also tried Rural Roads and found them only capable of playing phone tag. So I walked out the from of my house and started taking photos of the damage, just to show a snapshot of what Slater & Sons was doing to our road access. This caught the eye of one of a Trasxcavator driver, who said he went by the name of Squirrel and he got off his machine to walk over me. And I do mean walk over me. First he tried intimidating me, then he resorted to abuse & threats. Needless to say he knew they were doing wrong by us and didn't want it seen … Strike "4"

We are only in June of 2023, so we have another 12 months of this torturous construction (if you can call it that) from Barwon Water and their chosen Contractors. If I get a chance I shall post a video which illustrates the ignorance of these people and why I could not possibly risk another person's precious horse being subjected to ignorant stupidity we cannot stop. It would be different if these people would work with us to ensure they acted sensibly and kept the animals living here safe. Unfortunately, my requests have fallen on deaf ears and it seems impossible.