N.B. Due to Barwon Water's Birregurra Pipeline, (surveying & construction), we are not able to Stand Stallions At Stud to outside mares. Our apologies but the circumstances that have bought this about are beyond our control. We tried to continue business as normal for 3 months after which it became clear we could not expect to keep visiting mares safe. (Often the mares that come for Live Cover have limited handling or have been through hell at other breeding establishments and are terribly anxious; That's fine when we can offer peace & tranquility to help them settle. But after zero communications from the surveyors & drone operators, before they buzzed our livestock in their paddocks; Followed by the drilling subcontractors leaving a road-gate 'wide open' at the end of the day, (even after being reminded to shut, latch & lock it as they left, to keep our heifers & dry mares safe), they did not and we cannot risk this happening to other peoples' horses whilst they are on our property entrusted to our care. Therefore all breeding offers advertised for the 2021/22 Breeding Season are suspended indefinitely from December 2021 … At best we believe this will remain the case for 3 years, based on the timeline given for these works, by Barwon Water on their website. However I think it is best to say we will not be Standing Stallions At Stud again, until the section of pipeline that passes our property is completed and the construction offices in the front corner paddock are fully vacated. At present the construction traffic has made what was a very dangerous crossroad even more treacherous to navigate. Particularly with precious livestock on board.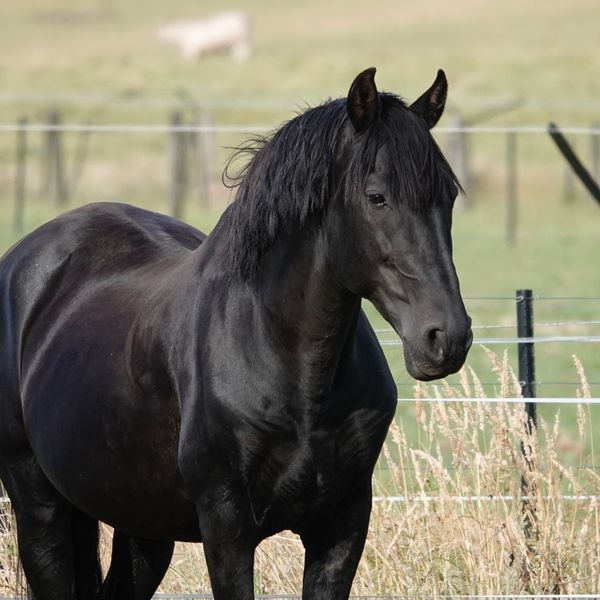 Below you will find A List Of Our Stallions with their Service Fees (because it has been requested). These are merely a guide as all the horses listed below will only be available as Designer Breeding Sires in 2023 ... For those who are unfamiliar with Designer Breedings. These are Made To Order Matings that we undertake for a client to produce a specific set of characteristics or as close to it, as is possible with what we know of the individual sire & dam and their production or family tendencies.
The client gets an exclusive chance to breed with the MF stallion and/or mare of their choice. Depending on the request, we usually try to provide a selection of 2 to 3 combinations for our clients to choose from. Once they settle on their preferred option, they initiate the purchase by paying a pre-mating deposit. This is the first of a minimum of 4 purchase payments made over a 17 - 18mth period. The final payment is made when the foal is weaned and prepped to travel to its new home.
Designer Breeding Sires - Not at Public Stud
Max & Cid are Maiden Sires. We hope to give them their 1st girlfriend/s this Spring but it will depend on many other factors, including what else is happening on the farm. 

My apologies to those who thought they had already begun stud duties. COVID and Barwon Water's pipeline construction have changed our intended timeline; Not that we are ones to rush breeding our horses. We do not breed to produce numbers.

Each of our matings is well thought-out in advance; Sometimes years in advance. Often to produce a foal that will be significant to the breed in future. 
Sister Stud Stallions - At Pirron Park

Alfredo II (Bay Sabino) ~ TBA ~  MF Mares will be offered For Sale bred to this stallion. 

Sam (Homozygous Black 16.3 -17h.h.) ~ Availability TBA.