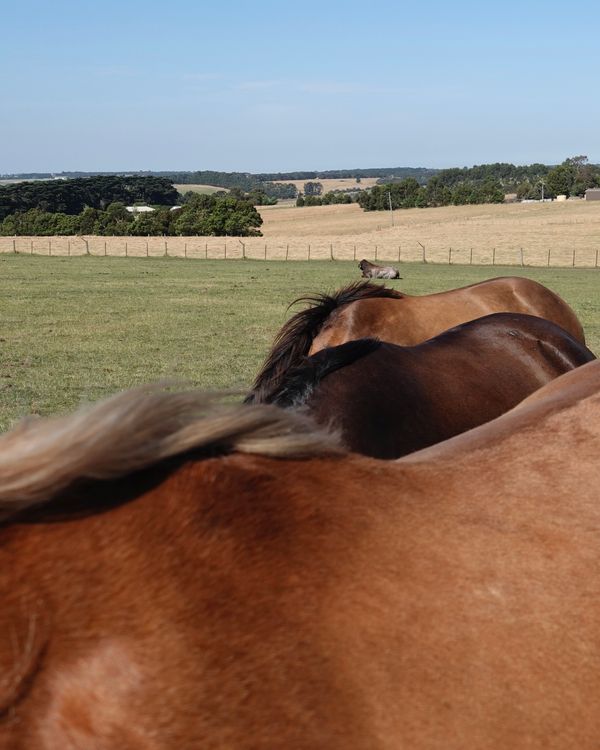 Please visit Cid's Page for more information. At this stage he will not stand at stud to outside mares until the Colac to Birregurra Barwon Water Pipeline has finished construction along our farm's boundary. This is due to the fact we respect & value our clients far more than Barwon Water and the Contractors it has chosen for this project do.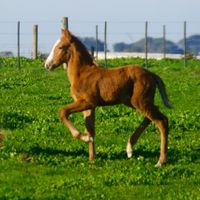 2019/5/31
Dark Dappled Palomino, with hind socks and pristine White Mane & Tail hair.
2001/5/30

A Genetic Treasure-Chest. Carries Black, Red, Cream & Pearl genes; And throws Dun characteristics to most of his foals. Probably inherited his Pearl gene from one of the renown Veiga Family's great Bullfighting stallions "Guizo". Who in turn has a pedigree of great Working horses tracing back to "Agareno" who is quoted ago be one of the Chief's of the Lusitano Breed.

Liver Chestnut ... So both her Black PRE parents must have been Red Carriers ♥️

by Lenguaje (Agente X Feria) ... Military School of Jerez Out of Nicea (Orador VI X Veneciame) ... Benitez and Domecq

A Lovera bred Stallion by Jardinero V (Nevado III X Jardinera VIII) ... from a long line of Isabel Merella Terry horses. Out of Junquita (Brincador II X Danzarina II) ... this dam line is that of the highest rated 5 STAR Laureate in the Spanish Book of Merits.

1992

The mysterious "One & Only" Buckskin P.R.E. that changed the way the Spanish horses were marketed to the world, when he surfaced with a Cream Dilute gene, after 50+ years of the Spanish Studbook restricting Andalusian coat colours to Black, Bay & Grey; And checking each horse for compliance "twice" at Inscription and again at Revision ... It leaves more questions about the Spanish Studbook's processes, than answers as to where this horse came from and why no other Dilute emerged in or before the 1990's ???

1984

Again, the Dilute colour that this mare passed to her son, does not add up. The line they say her Cream comes through retrospectively, has not spawned Dilutes prior to the turn of the millennium, when the P.R.E. numbers in Spain were near saturation and needed a marketing boost. The discovery of Cream by "just one breeder" reinvigorated the Spanish Breed's popularity worldwide.

1971

Said to be Grey with a Cream gene; Though that was never published prior to the new millennium.

Colour is not known to me; But has to be Chestnut or Palomino based on her daughter's colour.