BLUE-EYED PANGARE BUCKSKIN COLT
This is WalkTall Bliss Bomb's first foal and he's a stunner.  He has a nice refined head, a good length of rein, a lovely compact body and long correct legs. Add to this his outstanding Burnt-Buckskin colouring and the light Pangare points combined with dynamic Blue eyes and minimal Splash-white markings, this colt (shown here in full coat) is spectacular!! He would make a super breeding prospect for anyone wanting to produce Miniature Thoroughbreds. Or as a gelding he'd be suitable for children to show, jump or race as he has the physique and a great attitude.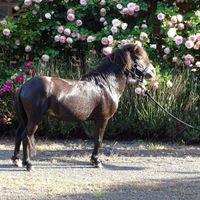 2011
Sooty-Pangaré-Buckskin with Incomplete Splash White markings, including Blue eyes.
A Splash-White//Sabino, Sooty-Buckskin who consistently produces dazzling Blue-eyed foals. This stallion is the most superb moving Miniature Horse you will ever see. He remains a memorable MHAA Winner, having achieved Reserve National Champion Small Horse in Harness, the only time shown. This spunky little stallion is as good as an import being 100% US; And a product of "the most desirable imported bloodlines".

PROGENY AVAILABLE Henry's last 2 colourful colts are currently for sale ~ If you are looking for quality, this is an opportunity not to be missed.
The Ideal Small Horse, Performance Miniature. Suitable for In-Hand Showjumping or Children's Harness Racing.
Pictured above at 8 months of age, with his summer coat showing through on his shoulder and neck.
Below at 15 months, in early autumn with his long winter coat beginning to show through. This makes his Pangare colouring a little more obvious.