Silver Star Wildfire For Sale
"Silver Star Wildfire" is a Chestnut Frame Overo. He produces light, elegant horses with superb ground covering paces. He appears to have a dominant form of the Red Factor ... Or it might just be luck we got 100% Red-based Progeny from our limited uses.Though we do have some very unusual variations on this colour as well as strong Rabicano tendencies, in his first few foals. From 4 breedings he has produced a near Dark-Chestnut Medicine-Hat Tovero, a Chestnut Sabino, a Mushroom Frame Overo and another unusual Chestnut Rabicano, with reverse leg markings which is something we've never seen before.

He is a genetic treasure-chest for breeders.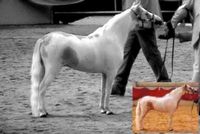 Loud Frame Overo stallion with at least 75% USA Bloodlines.
MHAA Reserve National Champion at Halter, first time shown.
Proven produce of "Elegant Horses", with Big, Expressive, Movement.
Service Fee ~ $440 plus Vet & Agistment.
La Vista Rowdy Remark (imp. USA)

Blue Gable's Silver Figurine - NZ

Dell Tera's Paycheck (imp. USA)
A Bay & White, Splash White, Sabino Colt.
Sold to Queensland.