Jock aka Oscuro Aguila (Dark Eagle)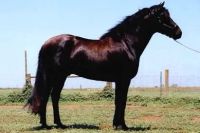 16h.h. The most "perfectly" conformed horse - Highly intelligent & passes this onto his progeny
Foundation sire. Imported by Ray Williams an incredibly astute horse man that provided Australia with the best of Spain's horses.

Taproot mare for Black colour gene. Founded an extremely fertile line of horses in Australia.

The highest scoring mare from Australia's 1st Revision even though she was lame with arthritis & viewed around mid-night under torch lights

The most prolific producer in the Australian Andalusian herd. Some discrepency in his progeny being over 16h.h. & mostly Bay prior to 1982. Then only producing Grey horses around 15.2h.h. after this date.

A mare of unique bloodlines not utilised enough at stud. This line is now a rarity.
Breed:- PRE Andalusian
Colour:- Black-Bay Dun
Age:-1996
Height:- 16h.h.
Features: Extremely intelligent.
                  Conformation and action that connot be faulted.
                  Improves every mare.
                  Extremely strong Dun gene.
                  Brilliant jumping ability passed on to every foal.

This stallion was Leased to Mr. Kerry Clissold of Mirboo North, to provide a Stud Stallion with different bloodlines to Pat & Tom Ball's El Caballero horses on the Eastside of Melbourne and unfortunately, was never returned from Gippsland on the Horse Transport that was sent to collect him. For many years we were told Kerry was going to return him; But he never did. This meant a magnificent Spanish Stallion with natural jumping ability was never utilised as much as he should have been which is a great shame for the breed in general.